Authenticity: The five-step authentication process
Sports memorabilia popularity has flourished throughout the years. But because of this steady rise in popularity the need to protect your investment in any type of sports memorabilia or collectible has grown considerably as well. We understand that authenticity is the number one consideration for any customer when shopping with us and we unconditionally guarantee the authenticity of all our signatures.
Our mission has been to create a process so fans like you could trust a provider of genuine signed sports memorabilia and collectibles. The five-step authentication process ensuring you get 100% authentic sports memorabilia in every purchase is conducted as follows:
Step 1 - All our signatures without exception, come from arranged signing sessions where the signee is paid a fee for their services.
Unlike other companies, we ONLY sell products that have come from official signing sessions. This is not only essential for the authenticity, but also for the quality of the product. As a way of safeguarding our guarantee that everything we sell is genuine, we never buy memorabilia from members of the public. We never, ever accost players at matches, outside training grounds or in airport terminals and we never, ever buy products from companies who do this.
Step 2 - Every autograph is witnessed by a GOAT Authentic representative. After all, observation is the only way to guarantee authenticity.
This means that the majority of items we stock are from closed signing sessions that we organise and attend, and witness the items being signed. The remainder are bought from a handful of trustworthy companies with whom we have been dealing for a number of years, and who we know to have the same standards as ourselves.
Step 3 - A GOAT Authentic serial numbered hologram is affixed to each signed piece of sports memorabilia.
Your product will come with a numbered security hologram, which will correspond to a matching, identically numbered hologram on your certificate of authenticity. This ensures that the certificate can only be used to authenticate the product for which there is a corresponding number.
Step 4 - A certificate of authenticity is assigned to each piece of sports memorabilia and includes a matching hologram to the one affixed to the autographed item.
To protect your investment, all our products come with a Certificate of Authenticity. Products certified by GOAT Authentic will include details of the signing session plus - if available - a photo of the signee signing one of the product line at the signing session.
If a product has been authenticated by a third party organisation, such as Beckett, Fanatics or PSA/DNA, this is stated on the product page and the product will come with two certificates issued by the third party and GOAT.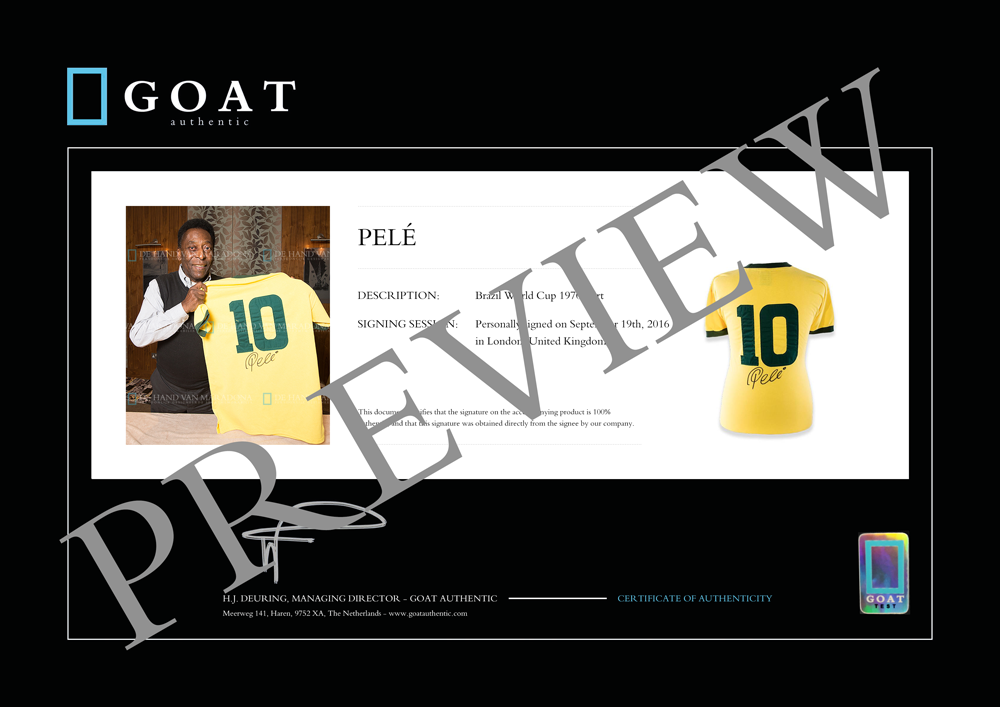 Step 5 - To ensure authenticity, the hologram can be reviewed online. This process helps to ensure that the product purchased is authentic and eliminates any possibility of duplication or fraud.
Our customers are at ease knowing what they purchase is genuine. To verify the authenticity of the product just find the hologram number on the product and enter the number here: https://goatauthentics.com/verification/